INFANT SECURITY
Our tags are small, light and comfortable with the best infection control design in the industry. Only tag available with Dual-Tamper alert making it impossible to remove them without setting off an alarm event but also eliminates nuisance alarms.
PATIENT WANDER
Wandering and disoriented patients can come to harm if they go astray but limiting freedom and cause unnecessary stress and can cause a loss of dignity. Our RFID Wandering Patient Protection system offers real-time visibility so you can keep a virtual eye on them in a gentle and respectful manner.
Staff will be instantly aware of any alerts or if any of your chosen alerts are triggered. You might choose to be alerted by a wide range of triggers or you might wish to focus on just one area of wandering protection, dependent on your organisations needs: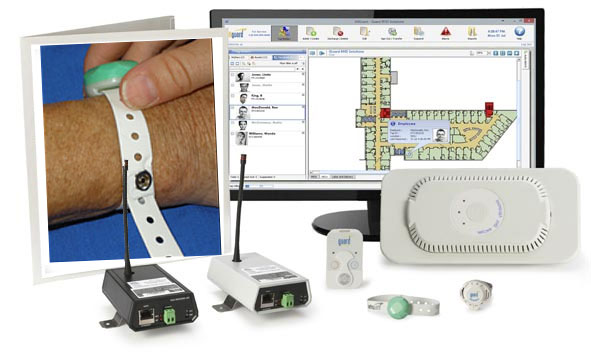 Perimeter protection with monitoring at exits
Notification if Doors left open
Patient tracking within your premises
Tamper alerts if a bracelet is removed, including where and to whom it belongs.
The system can also incorporate staff duress alarms, asset tracking and can integrate with our nurse call system.
Our wandering patient protection is fully IP based and in full compliance with today's corporate IT policies. It offers high performance and is low maintenance and reliable delivering unparalleled safety for your patients.