By Sean O'Riordan
Thursday, August 18, 2011
Published in the Irish Examiner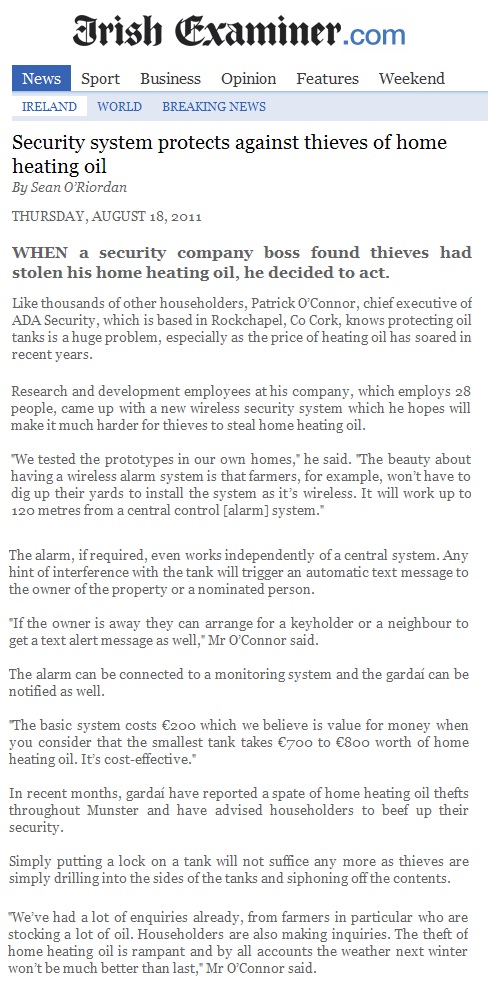 Like thousands of other householders, Patrick O'Connor, chief executive of ADA Security, which is based in Rockchapel, Co Cork, knows protecting oil tanks is a huge problem, especially as the price of heating oil has soared in recent years.
Research and development employees at his company, which employs 28 people, came up with a new wireless security system which he hopes will make it much harder for thieves to steal home heating oil.
"We tested the prototypes in our own homes," he said. "The beauty about having a wireless alarm system is that farmers, for example, won't have to dig up their yards to install the system as it's wireless. It will work up to 120 metres from a central control [alarm] system."
The alarm, if required, even works independently of a central system. Any hint of interference with the tank will trigger an automatic text message to the owner of the property or a nominated person.
"If the owner is away they can arrange for a keyholder or a neighbour to get a text alert message as well," Mr O'Connor said.
The alarm can be connected to a monitoring system and the gardaí can be notified as well.
"The basic system costs €200 which we believe is value for money when you consider that the smallest tank takes €700 to €800 worth of home heating oil. It's cost-effective."
In recent months, gardaí have reported a spate of home heating oil thefts throughout Munster and have advised householders to beef up their security.
Simply putting a lock on a tank will not suffice any more as thieves are simply drilling into the sides of the tanks and siphoning off the contents.
"We've had a lot of enquiries already, from farmers in particular who are stocking a lot of oil. Householders are also making inquiries. The theft of home heating oil is rampant and by all accounts the weather next winter won't be much better than last," Mr O'Connor said.