Banks, ATMs at risk as thieves use jamming devices to block alarms during robberies
By Jim Cusack
14 AUGUST 2011
Published in the Irish Independent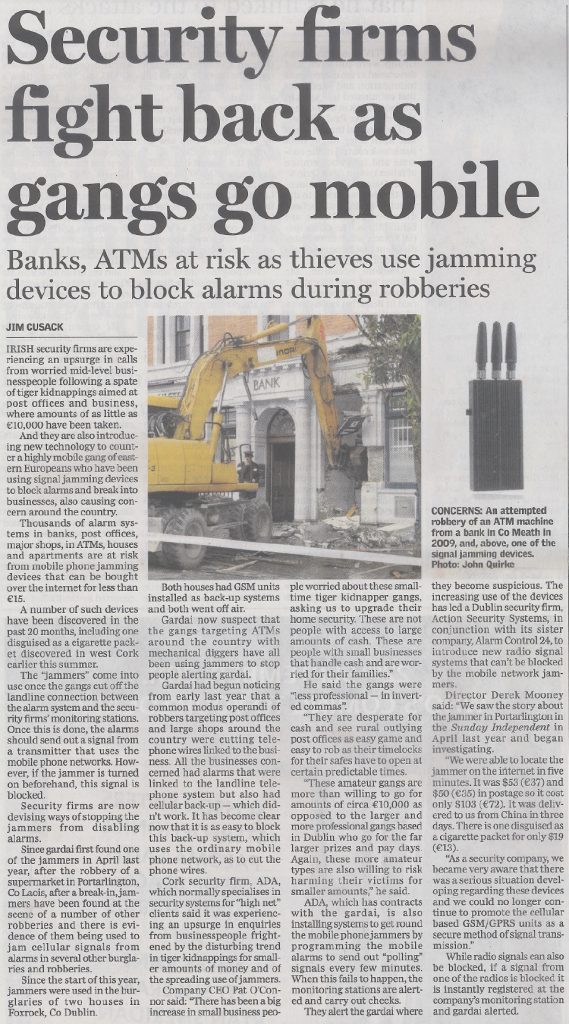 Irish security firms are experiencing an upsurge in calls from worried mid-level businesspeople following a spate of tiger kidnappings aimed at post offices and business, where amounts of as little as €10,000 have been taken.
And they are also introducing new technology to counter a highly mobile gang of eastern Europeans who have been using signal jamming devices to block alarms and break into businesses, also causing concern around the country.
Thousands of alarm systems in banks, post offices, major shops, in ATMs, houses and apartments are at risk from mobile phone jamming devices that can be bought over the internet for less than €15.
A number of such devices have been discovered in the past 20 months, including one disguised as a cigarette packet discovered in west Cork earlier this summer.
The "jammers" come into use once the gangs cut off the landline connection between the alarm system and the security firms' monitoring stations. Once this is done, the alarms should send out a signal from a transmitter that uses the mobile phone networks. However, if the jammer is turned on beforehand, this signal is blocked.
Security firms are now devising ways of stopping the jammers from disabling alarms.
Since gardai first found one of the jammers in April last year, after the robbery of a supermarket in Portarlington, Co Laois, after a break-in, jammers have been found at the scene of a number of other robberies and there is evidence of them being used to jam cellular signals from alarms in several other burglaries and robberies.
Since the start of this year, jammers were used in the burglaries of two houses in Foxrock, Co Dublin.
Both houses had GSM units installed as back-up systems and both went off air.
Gardai now suspect that the gangs targeting ATMs around the country with mechanical diggers have all been using jammers to stop people alerting gardai.
Gardai had begun noticing from early last year that a common modus operandi of robbers targeting post offices and large shops around the country were cutting telephone wires linked to the business. All the businesses concerned had alarms that were linked to the landline telephone system but also had cellular back-up — which didn't work. It has become clear now that it is as easy to block this back-up system, which uses the ordinary mobile phone network, as to cut the phone wires.
Cork security firm, ADA, which normally specialises in security systems for "high net" clients said it was experiencing an upsurge in enquiries from businesspeople frightened by the disturbing trend in tiger kidnappings for smaller amounts of money and of the spreading use of jammers.
Company CEO Pat O'Connor said: "There has been a big increase in small business people worried about these small-time tiger kidnapper gangs, asking us to upgrade their home security. These are not people with access to large amounts of cash. These are people with small businesses that handle cash and are worried for their families."
He said the gangs were "less professional — in inverted commas".
"They are desperate for cash and see rural outlying post offices as easy game and easy to rob as their timelocks for their safes have to open at certain predictable times.
"These amateur gangs are more than willing to go for amounts of circa €10,000 as opposed to the larger and more professional gangs based in Dublin who go for the far larger prizes and pay days. Again, these more amateur types are also willing to risk harming their victims for smaller amounts," he said.
ADA, which has contracts with the gardai, is also installing systems to get round the mobile phone jammers by programming the mobile alarms to send out "polling" signals every few minutes. When this fails to happen, the monitoring stations are alerted and carry out checks.
They alert the gardai where they become suspicious. The increasing use of the devices has led a Dublin security firm, Action Security Systems, in conjunction with its sister company, Alarm Control 24, to introduce new radio signal systems that can't be blocked by the mobile network jammers.
Director Derek Mooney said: "We saw the story about the jammer in Portarlington in the Sunday Independent in April last year and began investigating.
"We were able to locate the jammer on the internet in five minutes. It was $53 (€37) and $50 (€35) in postage so it cost only $103 (€72). It was delivered to us from China in three days. There is one disguised as a cigarette packet for only $19 (€13).
"As a security company, we became very aware that there was a serious situation developing regarding these devices and we could no longer continue to promote the cellular based GSM/GPRS units as a secure method of signal transmission."
While radio signals can also be blocked, if a signal from one of the radios is blocked it is instantly registered at the company's monitoring station and gardai alerted.